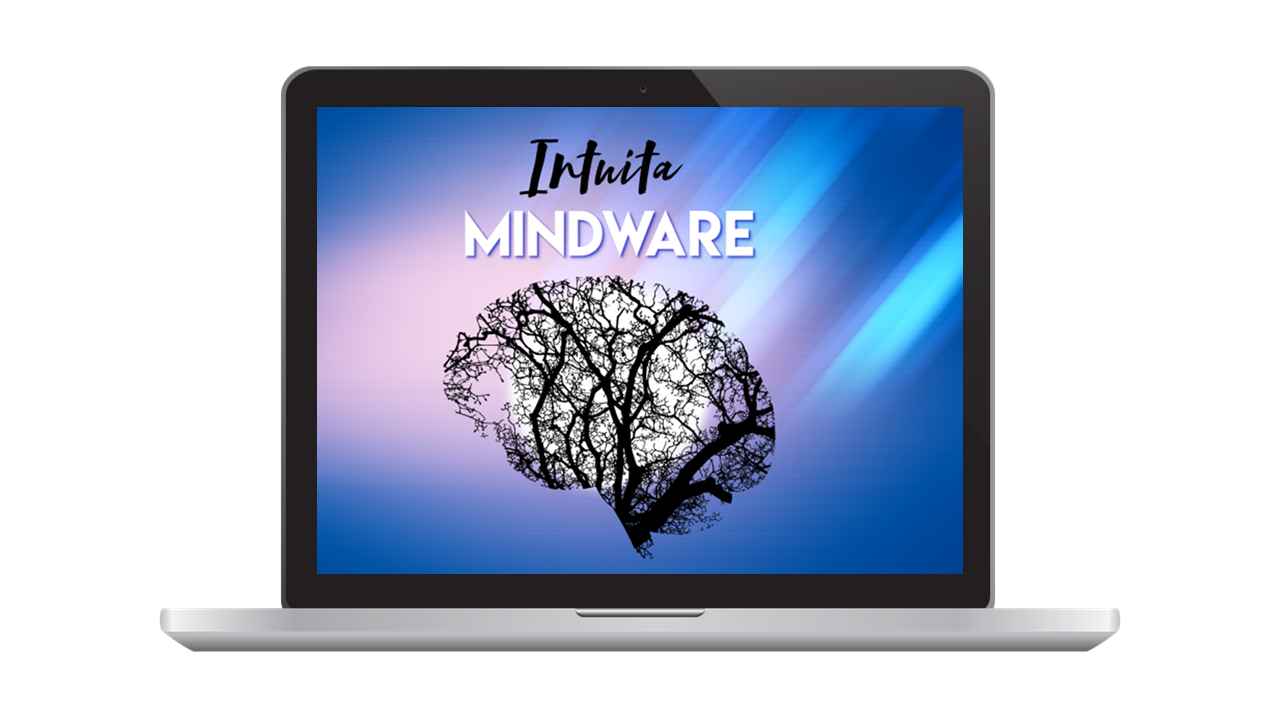 INTUITA MINDWARE - A POWERFUL CREATIVITY TOOL TO GENERATE BREAKTHROUGH

INSIGHTS USING INTUITION & DEEP COGNITION
Online Training Format:  3-hours basic training, 30-day practice training, followed by 12 week intensive training,12-month access
FOR:
FOR INDIVIDUALS & TEAMS WHO WANT TO USE THEIR COGNITIVE MIND MORE INTUITIVELY, IMPROVE CREATIVE CAPACITY & GENERATE HIGHER QUALITY SOLUTIONS & eXPERIENCE dEEPER INTELLIGENCE 

 
LEADERS & LEADERSHIP TEAMS WHO WANT TO GAIN GREATER CLARITY & PURPOSEFULNESS ON THE DECISIONS THEY ARE MAKING AND HOLDING OTHERS ACCOUNTABLE FOR
INNOVATION TEAMS & GROUPS WHO WANT TO DEEPEN THEIR ABILITY TO PRODUCE CREATIVE INSIGHTS & OPEN PRECONDITIONS FOR NOVEL THINKING
HOW IT WORKS
Intuita MindWare bypasses routine thinking by combining meditative awareness, introspection and creative association to produce a richly intuitive experience. Using this framework, implicit cognition and neuro-associative elements combine to liberate conscious and unconscious intelligence, often exposing novel context. This enables reflective and dreamlike experiences to correspond in a state of advanced emotional intelligence in a proven experiential process.
Originally released in 1996, Intuita MindWare has produced amazing insights for diverse professionals, including medical, engineers, managers & executives, legal, accounting, administrators & IT specialists.
Why is this important? We've become accustomed to using our mind in certain ways, but it can be used in far more creative and whole ways. This is what geniuses and brilliant people tap into. Learning new ways to use the mind and experience cognitive diversity opens opportunities to produce better insights earlier that can improve how we live, create and innovate.
APPLICATIONS:
It's used as an intuitive MindWare for personal and group problem solving. The solutions generated using this process tend to be more implicitly whole than those that result from mental thinking processes. They typically encompass a more elegant solution-after-next orientation, are more whole and empathic, and have a tendency to solve deeper problems. This can mobilize more efficient, less costly follow on approaches.
At a personal level Intuita MindWare can unblock perceptual walls, going beyond the limits of habitual thinking and past experience to open a deeper and more integrated emotional context for solutions to emerge from. The processes also tend to release an incredible amount of energy. People are often very surprised by this.
Intuita MindWare has several innovation applications, from developing creative and intuitive skills, enhancing a creative innovation culture that thinks differently, fostering meaningful innovation, and improving problem absorption and customer empathy by providing a novel insight generation process.
HOW THE TRAINING PROGRAM WORKS
This core version of Intuita MindWare is designed as a one-on-one training program to introduce the tool, the processes, and how to use them.  Once you master the basic steps, you'll apply real life or business questions and generate intuitive insights in minutes.
You'll learn how to prepare questions and use a step by step process to apply one of twelve different Intuita MindWare processes. These processes can be learned in a just a few hours. With continued practice, they become embedded as an internal process that reflexively generates quick insights.
MARKETING TEAMS WHO WANT TO IMPROVE THEIR ABILITY TO GENERATE INSIGHTS, IDEAS & STORIES FROM A DEEPER LEVEL OF HUMAN EXPERIENCE
TRANSFORMATION AND CHANGE MANAGEMENT TEAMS WHO WANT TO INCREASE THEIR LEVEL OF EMPATHY, SELF-AWARENESS & PERSONAL DEPTH
TO EXTEND EMPLOYEE WELLNESS PROGRAMS BEYOND MINDFULNESS & MEDITATION TRAINING & INTO THE PRACTICAL GENERATION OF WHOLE MINDED AND EMOTIONALLY INTELLIGENT PERSONAL SOLUTIONS 
EXPECTED OUTCOMES:
Enhanced cognition, higher creativity & empathy
Regenerate an awareness default for whole brain processing
Improve intuitive agility and mental flexibility
Develop intuitive skills
Improve abilities in problem absorption, the pre-solution aspect of innovation
Align brain processing with introspection and higher intuitive functioning
Increased well-being and proximity to deeply intelligent solutions
LEARN:
An overview of how Intuita MindWare works
To switch on an intuitive state in seconds
To frame real world questions to produce insight in minutes
The 3 steps to set up an intuitive MindWare process
How to use each of the 12 different intuitive MindWare processes
Access and retain intuitive memory
How to interpret your results
To establish a real time practice
WHAT'S INCLUDED:
Participant Workbook
Training to use Intuita MindWare
12 MindWare Coaching Audios
12 Portable Practice Cards
3+ hours of online training
Suggested 30-day Practice Plan
12 months of on-line access
This training is also available in a more advanced developmental course and workshop format called Speed Intuition for groups and organizations.
WHAT CLIENTS SAID:
A government administrator, who had been downsized was working very hard to find a new job. She felt overwhelmed. Inwardly she was told to do nothing for 3 weeks, which she did. On the last day of Week 3, the phone rang with a job offer. Administrator, Government of Ontario
"I had difficulties concentrating while analyzing some complex consulting work for a client. I realized a way to work with the data… This insight achieved a solution in 1 & 1/2 hrs. for work that normally would take a full day." D. Fulton, IT Services Consultant
"By applying intuitive intelligence to my professional life I am able to tap additional information on any decision I am making" S. Talwar, V.P. Marketing, HCL Infosys
"I got fresher perspectives and added another dimension to the thinking process." S. Karwal, Director, O & M Advertising
"I attended Intuita training in India and the insights I got to handle my personal and professional life are absolutely astonishing!" Senior Executive
So, insights appeared. Lives were changed. Personal fulfillment and happiness was achieved. Business solutions were found. Results like this speak for themselves.
MORE RESULTS
"It made me feel excited because I got an idea for a path to follow AND I was relaxed! I felt clearer and happier. I thought I knew the answer but my intuition knew more." Eric Gilboord, Marketing Consultant
"Intuition has an important role to play in ethical decision-making – the Intuita processes have helped me to articulate this role to others and access that intuitive information." David Plouffe, Ethics Consultant & Trainer
"I'm grateful for tools like this which challenge me to stay intentional." Jody Orr, Organizational Change Consultant
"I was stymied by a problem for which I could see no solutions. Using MindWare I saw what the real problem was and resolved it." General Manager
"The Intuita processes are sound. They work!" Corporate Workshop, JAN Marketing
"Intuita MindWare has great personal value. It is useful in generating creative ideas and even solving technical and design issues." J. Costa, Professional Engineer